Big game know-how makes the difference
24 October 2022 Dynamo-Neva, recap, Vanke Rays, WHL
KRS Shenzhen 1 Dynamo Neva 5 (1-2, 0-2, 0-2)
Shenzhen faced a Dynamo team steeped in experience. We knew all about Alexandra Vafina, a former Dragon now playing in Petersburg. We also knew plenty about the other Olympians on this roster. And if there was any doubt about the size of the task, a look at the standings confirms that Dynamo is gunning for the top of the table this season and would pose a formidable test in Mytishchi.
The Lady Dragons handed a debut to defender Alexandra Pyrkova. The 17-year-old Muscovite was on our team during the successful 2022 playoff campaign, having previously been with Agidel Ufa. She made her WHL debut as a 15-year-old playing for 7.62.
However, she faced something of a baptism of fire here, along with the rest of the team. Dynamo, with a roster stacked with Russian internationals, blasted into a 2-0 lead inside 90 seconds. Hayley Williams, a U.S.-born Hungarian international, opened the scoring on 1:18, and 12 seconds later Kristina Glukharyova made it two.
A lesser team might have folded at this stage. Dynamo, chasing down the league leaders, was rampant early on and it took some brave goaltending from Wan Yuqing to keep the score down. Gradually, the Dragons found their way into the game and began to pose an attacking threat. That led to our girls getting a goal back in the 15th minute. Kaitlyn Tougas fired in the puck from the point and Hannah Miller produced a neat redirect to steer it beyond Eva Gubareva in the Dynamo net.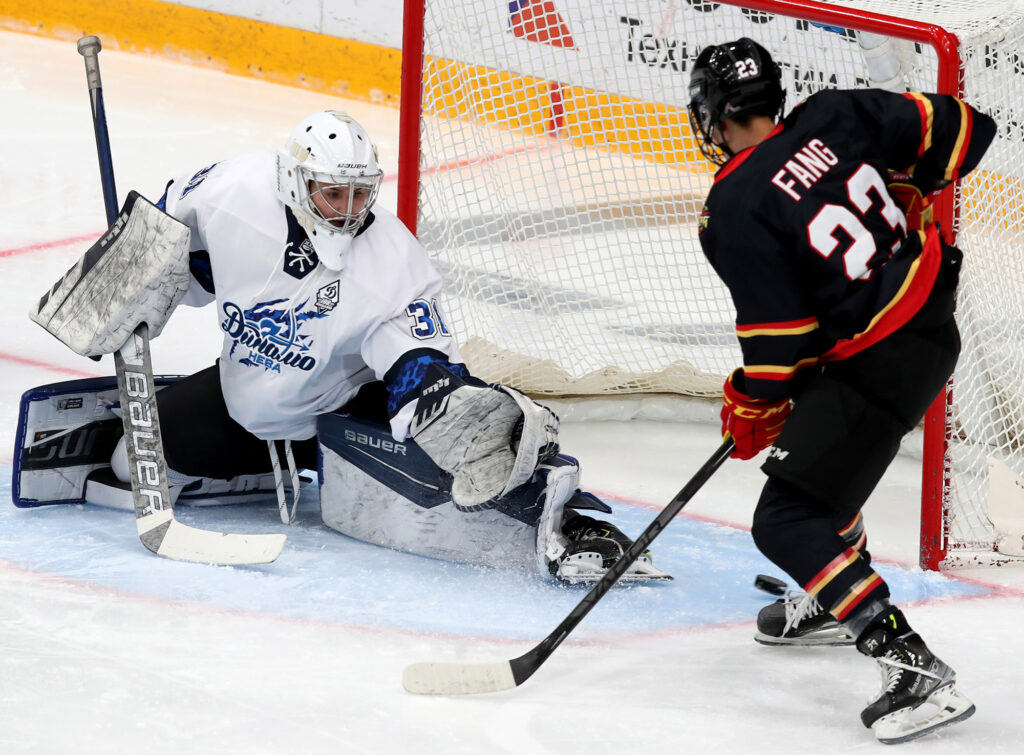 Miller had other chances, forcing a double save out of Gubareva in the first period. The visiting goalie also had to make big stops to deny Tougas and Wang Jiaxin. At the other end, Wang Yuqing did well to deny Polina Bolgareva in a one-on-one situation. Our goalie forced the opposing forward to go wide and narrowed the angle to the point where it was too tight for the Russian international to score.
By the end of the opening frame, Shenzhen had almost caught up on the stats. Dynamo led 12-11 in shots, and 25-20 in attempts. It hardly added up to a commanding advantage and a single-goal lead looked far from insurmountable. Moreover, our team was showing improved discipline, with just one penalty in the first period. Indeed, KRS would take just two penalties throughout a well-behaved game.
Unfortunately, for all Red Star's efforts, that was as close as they came to salvaging the game. The second period again saw chances at both ends. However, Dynamo displayed some clinical finishing to extend its lead to 4-1, while Shenzhen struggled to hand Gubareva a serious test. Liana Ganeyeva and Fanuza Kadirova were on target for the visitor, either side of the midway point. Both of those players were part of Russia's Olympic team earlier this year, and so was Bolgareva. She had an assist on Kadirova's tally and added a fifth in the final stanza.
That, perhaps, underlined the difference between the teams. Dynamo's roster includes seven players who represented Russia in Beijing. Goalie Diana Farkhutdinova was rested today, but Ekaterina Nikolayeva, Oksana Bratishcheva and our old friend Alexandra Vafina all featured in addition to the three goalscorers. It added up to a wealth of experience and big-game know-how that many of our young prospects are still working towards. All too often, our girls created good scoring opportunities only for the final execution to fall short of the quality of the build-up play. That's why this season is very much a work in progress for Scott Spencer and his team.
The next step in that process comes tomorrow with the return game against Dynamo. And this week there's a bonus for KRS fans with another home game on Thursday against 7.62.