Chinese Dragons lead the way to biggest win of season
27 October 2022 recap, Vanke Rays, WHL, ЖХЛ
KRS Shenzhen 6 7.62 Voskresensk 2 (2-0, 3-1, 1-1)
The Lady Dragons got their second victory of the season and produced an emphatic performance into the bargain. Two goals from Kaitlyn Tougas got things started in the first period, but this performance was dominated by homegrown talent. First, Pi Yunlin became the first of our Chinese-born stars to find the net this season, closely followed by Fang Xin and Wang Jiaxin. Qu Yuye contributed a couple of assists. Our brightest attacking display of the season so far powered Shenzhen to a convincing 6-2 scoreline – and on Monday we have the chance to do it all again when 7.62 returns to Mytishchi for the second game of this mini-series.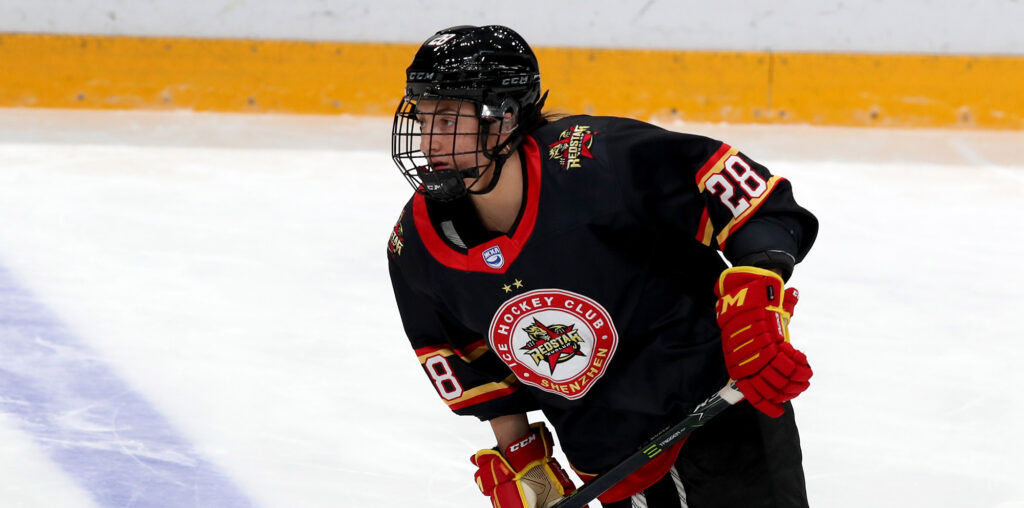 Scott Spencer's team got a big lift with its first win this term on Tuesday. Following our overtime success against high-flying Dynamo Neva, there was another boost when Ryleigh Houston was fit to return to action on Thursday. Houston scored four goals in our first two games, but then suffered an injury that ruled her out until today. Her return to action reunited our North American top line as she rejoined Tougas and Hannah Miller on the first line.
That top line made the difference in the first period, with Tougas scoring twice. The first came when Miller forced a turnover and set up her strike partner on a 2-on-0 rush. Next, great work from Qu Yuye down the right-hand channel saw her create the opportunity for Tougas to make it 2-0 with her fourth goal of the season.
At the other end, goalie Irina Kostina made several noteworthy saves. 7.62 was particularly threatening in the early stages when the game was still goalless, and Kostina's impressive efforts did much to ensure that our girls got the all-important breakthrough.
In the second period, our homegrown talent came to the fore. We already saw Qu produce a nice play to set up the second goal for Tougas. Now there was more to come from the Chinese-born players on this team. Just a minute into the middle frame, Zhao Qinan sent a pass from the point to Pi, who found some space between the hash marks. Our 22-year-old forward flipped a wrister over Anna Alpatova's shoulder to make it 3-0. The jubilant celebrations reflected the fact that this was Pi's first goal for Shenzhen.
Midway through the second period, Pi added an assist to her tally when she helped Miller to score on the power play. And 90 seconds later, Fang made it 5-0. Turbo charged into the 7.62 zone and her wrister squirmed through Alpatova's five-hole.
The visitor never gave up on this game, and got a consolation goal through Sofia Andrianova soon after. But there was never any doubt about the outcome.
A good day got even better when Wang Jiaxin added a sixth at the start of the final frame. Jiaxin is only 16 years old, one of the players on whom Chinese hockey can look to build its future. Her first goal in pro hockey was a well-taken snipe to convert Qu's feed from behind the net and punish a poor clearance from the 7.62 defense.
The rest of the game was dominated by the visitor's efforts to make the scoreline more respectable. Ekaterina Davletshina got one goal back for 7.62, and a further effort was whistled off for interference on Kostina, but today's game was all about the home team and its homegrown talent.