Back on the ice
18 January 2023 recap, Vanke Rays, WHL, Ванке Рэйз, ЖХЛ
KRS Shenzhen 0 Torpedo Nizhny Novgorod 3 (0-1, 0-1, 0-1)
There's nothing quite like game day. KRS Shenzhen had not played since Nov. 25, and after almost two months it was high time to see the ladies back on the ice.
Much has changed over the holiday season. While the Lady Dragons rested, our rivals continued to play. Two of the four playoff places in the Women's Hockey League are now taken, with Agidel and Biryusa assured of their postseason campaign. Meanwhile, KRS has lost ground in the race for a top-four finish. Coming into action here, our girls trailed fourth-placed Tornado by 13 points. However, with three points for a win, and four games in hand on the team we defeated in last season's Grand Final, there is every reason to believe in a return to the playoffs despite our early-season difficulties.
Before that, though, there was unfinished business with Torpedo. When we met in Nizhny Novgorod in the fall, we had a hard time of it. Indeed, 120 minutes of hockey produced not one goal for Shenzhen. That, of course, was partly down to the loss of Ryleigh Houston. She suffered an injury in the first game against Torpedo and her absence robbed us of a key part part of the offense early in the season. Since then, Ryleigh has returned to demonstrate her class with 24 (5+19) in 12 games since getting back to full fitness. We also signed Torpedo goalie Karina Zolotaryova, who has won four of her five games in Dragons' colors. Along the way, her shut-out on her debut for us in Chelyabinsk saw Karina establish the second longest shut-out streak in WHL history.
Compared with the line-up in our previous game in November, Scott Spencer's team was a little understaffed. The Dragons were down to just 10 forwards, with Yang Liying unavailable and the versatile Wen Lu pressed into defensive duties. Wen's switch was enforced by the absence of Zhao Qinan and Alexandra Pyrkova on the blue line for this game.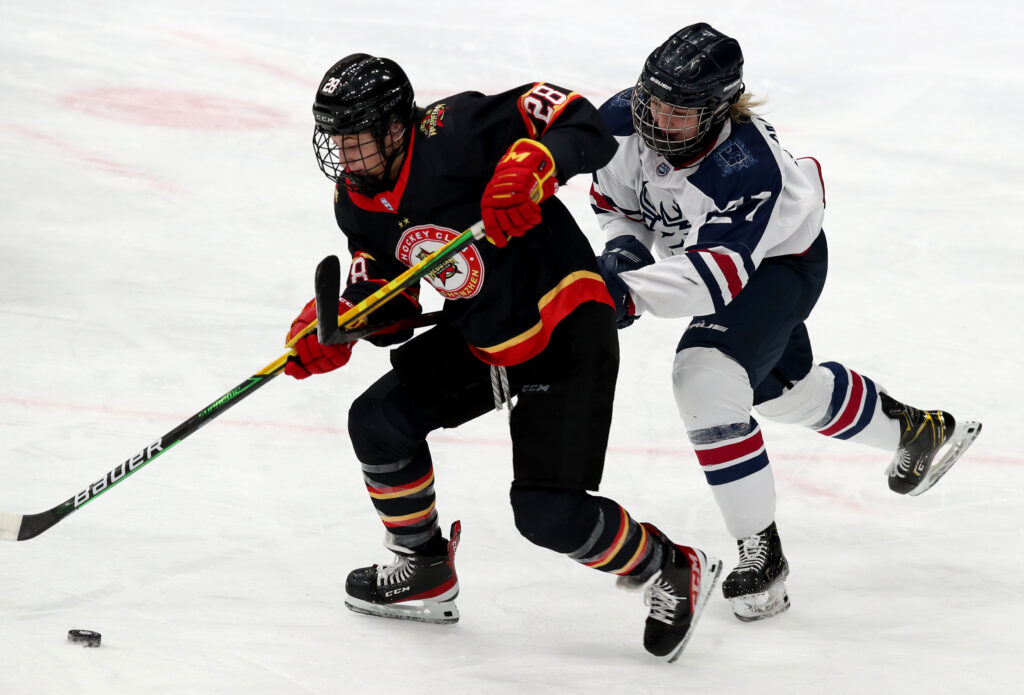 In the first period, unfortunately, there was a visible difference between a Torpedo team that has played regularly in recent weeks and the KRS line-up still adjusting to the pace of competitive action after a long break. Our visitor had the better of the play, outshooting us 17-5 in the opening stanza. Zolotaryova, though, put up some stubborn resistance against her former colleagues and it took a power play goal from Alyona Shmykova to give Torpedo a slender lead at the intermission.
The middle frame was already a noticeable improvement. Our offense, in particular the top line of Hannah Miller, Kaitlyn Tougas and the aforementioned Houston, began to stretch the Nizhny Novgorod defense. Valeriya Merkushova, the hugely experienced Russian international goalie, made several important stops and was relieved to see some other dangerous opportunities flash narrowly wide of her goal. However, Torpedo continued to pose an attacking threat and Alyona Starovoitova doubled the lead midway through the session.
There was a sense that KRS was growing into the game and could still turn things around in the third period. However, Starovoitova struck early to make it 3-0 and give the visitor a lead it could defend relatively easily as the clock ticked down. When the Dragons were unable to convert a power play chance following an interference call on Angelina Lylova in the 53rd minute, it was clear that this was not the day for a dramatic fight back.
Indeed, there was not even an opportunity to grab a consolation goal in the closing stages. As a result, we've gone three hours of hockey without scoring on this opponent: tomorrow is our fourth and final chance to put that right as the teams meet again here in Mytishchi.