Tsatsyna stars as Dragons win a thriller
22 February 2023 recap, Tornado
Tornado Dmitrov 6 KRS Shenzhen 7 OT (3-1, 1-3, 2-2, 0-1)
Yesterday, after a heavy defeat in Dmitrov, we talked about how often the Lady Dragons recover to produce much better performances in the second game of a back-to-back. Today, once again, we saw that play out. After a 12-goal thriller in regulation, Shenzhen grabbed a sensational overtime win, wrapping up the regular season on a high note and sending our team into the playoffs in a great frame of mind.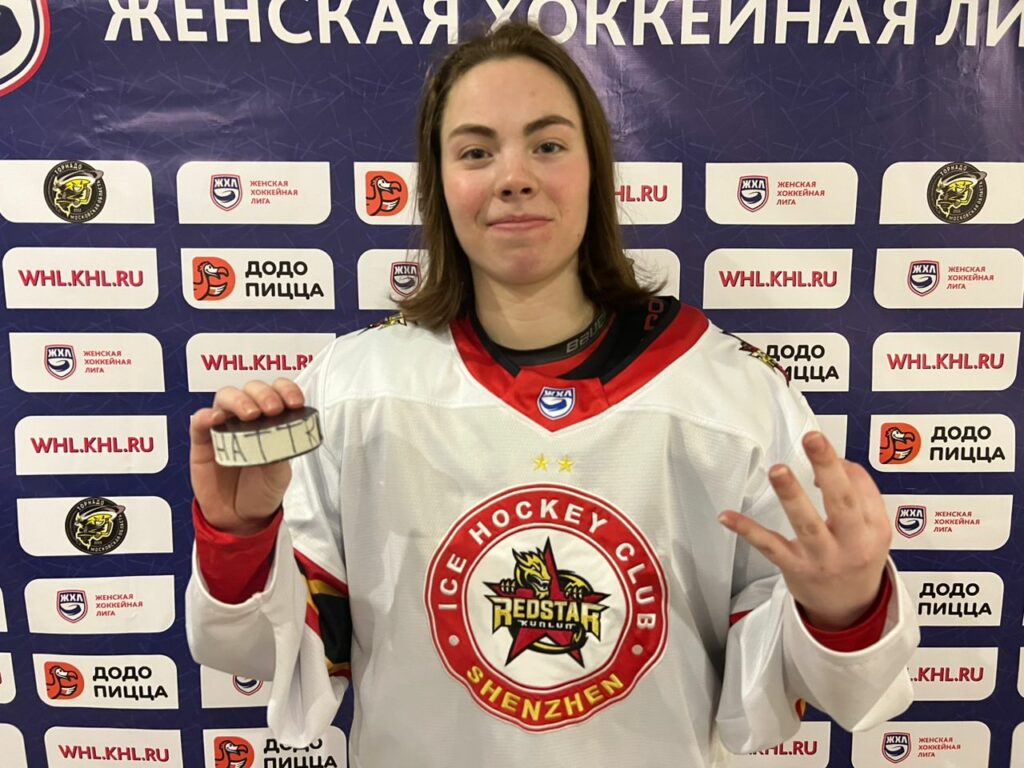 Defender Irina Tsatsyna was the Shenzhen star. She potted a hat-trick and also assisted on another goal to finish with four points from regulation. Then Hannah Miller delivered the decisive blow 91 seconds into the extras to settle a thrilling encounter.
This was a rollercoaster of a game. In the first period, Shenzhen withstood some early pressure and our goalie, Irina Kostina, pulled off some big saves to keep the scores level. Then, a little against the run of play, Ryleigh Houston put us in front in the 16th minute. Unfortunately, that lead did not last and barely a minute later, Alexandra Nesterova tied the scores.
After that, Tornado began to tighten its grip. A second goal just before the intermission gave the home team the edge. Then, in the second period, we saw another incidence of quickfire tallies going against us. Elizaveta Shkalyova got her second to make it 3-1, then Anna Lopukhova added a fourth 70 seconds later.
But that was nowhere near the end of the story. Tsatsyna got the fightback underway midway through the second stanza. Then, just as KRS went on the power play, Wang Yuqing took over from Kostina in goal. Soon, she was celebrating as Tsatsyna assisted Hannah Miller to make it one-goal game. Now it was the Dragons' turn to rattle up a flurry of quick goals. Tornado took another penalty almost immediately and Tsatsyna continued her eye-catching performance with a second goal, tying the scores at 4-4.
It stayed that way until the second intermission. But there was no sign of either team letting up in a pulsating encounter. Shkalyova completed her hat-trick to give Tornado the lead seconds after the restart, but Red Star continued to battle. The pressure was firmly on the home defense as our girls looked to find a way to save the game, and Kaitlyn Tougas came up with the answer in the 54th minute to make it 5-5.
However, that was merely the prelude to a breathless finale. Darya Metyudova thought she'd won it for Tornado, but a 58th-minute power play gave the Dragons one last chance. Playing six-on-four hockey, our girls made the most of their advantage and it was Tsatsyna – who else? – who delivered the tying goal 52 seconds from the end.
Into the extras, and Shenzhen made the momentum count. KRS continued to have the better of the play and it wasn't long before Miller potted her second of the game to snatch another memorable victory.
And so, our regular season campaign finishes on a high note. Although the 32 games we've played so far have brought many challenges, there is also plenty of evidence that this team can cause problems for any opponent. After all, we've defeated almost every potential playoff rival, meaning that at our best we can pose questions for any team. Now, the task is to take that forward into a series of do-or-die playoff games and try to extend our title defense as far as possible.