Lady Dragons get set for playoffs
2 March 2023 Dynamo-Neva, Vanke Rays, WHL, ЖХЛ
Shenzhen begins its title defense against Dynamo Neva
It was quite a journey to get there, but the Lady Dragons are preparing for this year's WHL playoffs and looking to defend their title.
Talk of winning it all might seem optimistic after a regular season that saw the team finish sixth in the standings. However, there's more to it than that raw statistic. Over the course of the season, KRS has steadily improved. It took a long time to secure a first victory; a combination of injury and illness disrupted pre-season and the opening games of the campaign and that only added to the challenges of establishing a new roster and game plan under incoming coach Scott Spencer.
However, once everyone was fit and established, our girls quickly settled into productive groove. Much revolves around a top line that is one of the most prolific in the WHL. Hannah Miller, Ryleigh Houston and top scorer Kaitlyn Tougas had 63 goals between them. Tougas, with 53 (24+29) points, was second in the league for scoring behind Agidel's Olga Sosina, while Hannah and Ryleigh also made the top 10. Houston missed seven games early in the season and her PPG of 1.84 was the best on our team and better than Sosina's equivalent stat.
On defense, Kiana Wilkinson and Irina Tsatsyna have formed the first pair since the latter arrived from SKSO early in the campaign. They've eaten a lot of minutes and also play an important role in nurturing our home-grown Chinese talents. With the likes of veteran Olympians Liu Zhixin and Yu Beiwei unavailable for much of the season, this has been something of a breakout campaign for youngsters like Wang Jinyan, 15, Zhang Shuqi, 17, plus 20-year-olds Li Qianhua and Du Sijia. That effort bore fruit for Zhao Qinan, who was called up for her first ever All-Star Game back in December. In the playoffs, we can expect to see plenty more ice time for Tsatsyna and Wilkinson but we're also hoping that some of our Chinese youngsters will gain precious experience ahead of the World Championship Division IA campaign in Shenzhen next month.
Between the piping, Karina Zolotaryova emerged as our lead netminder over the course of the season. However, there's plenty of depth in this position, with Irina Kostina and rising Chinese star Wang Yuqing also seeing regular action throughout the season.
Rich playoff heritage
There are other reasons to be hopeful ahead of the playoffs and they go beyond the current playing staff. Playoff hockey is in the Dragons' DNA: in three previous seasons in this competition, we've lost just one series, the hastily rearranged 2021 final against Agidel when our roster arrived piecemeal from the postponed World Championship and effectively had its first team practice in the opening game. That series was settled by the narrowest of margins, a shoot-out in the deciding game. Thus, history suggests Shenzhen will be a formidable playoff prospect.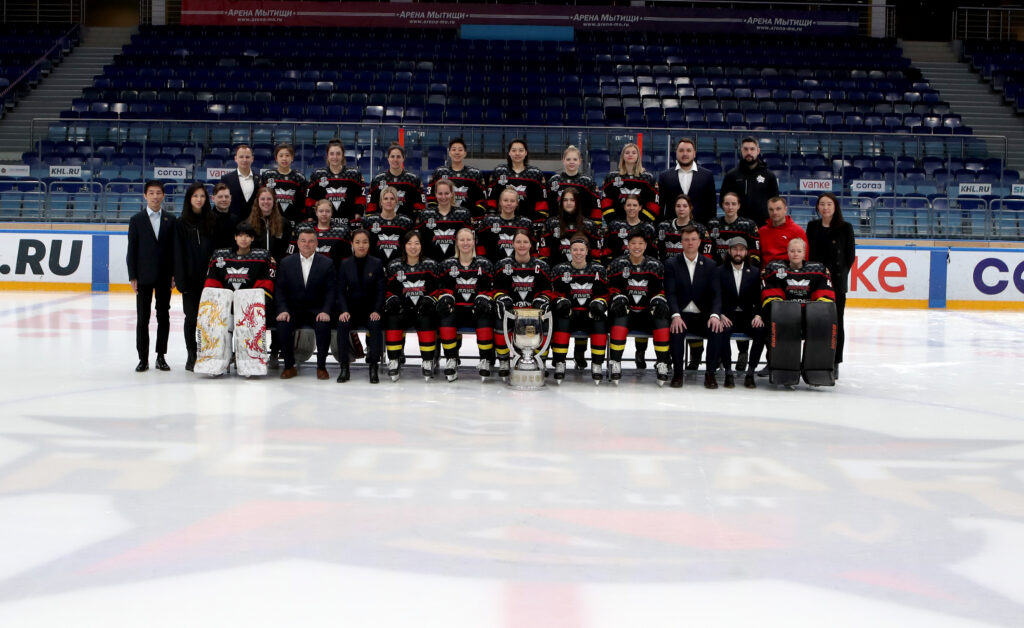 More recent events also point to a highly competitive series. In four regular season meetings, we've shared two victories apiece with Dynamo. Twice we've suffered heavy losses against our upcoming opponent, only to bounce back with a win the next day. It's clear that this is a team that can learn from its mistakes fast and apply that knowledge to bring instant improvements. In playoff hockey, with a rapid turnaround between games, that might make the difference between success and failure in what promises to be a hard-fought, enthralling series.
The opposition
Dynamo Neva's roster includes some familiar faces. Alexandra Vafina and Maria Pushkar both moved to St. Petersburg after playing for KRS. Meanwhile, with the head coach of Team Russia, Zybin, behind the bench, this is a team determined to compete for top honors.
That much was clear even in pre-season, when Dynamo produced a perfect performance to win the Dmitry Solunsky Cup. In the regular season, not even the loss of star goalie Diana Farkhutdinova could seriously hurt the Blue-and-Whites' progress: for much of the campaign, Dynamo was in a battle with Biryusa for second place behind runaway leader Agidel.
Unlike Shenzhen, Dynamo does not have such a dominant scoring line. Only one player, Fanuza Kadirova, made the top 10 in league scoring. Many of her 49 points came when supplying the ammunition for Polina Bolgareva, leading goalscorer, to fire.
On defense, Liana Ganeyeva has a reputation as the deadliest shot in the league from the blue line. She compiled 31 (13+18) points in 32 games and her potency was an important factor in driving the Dynamo power play. She also led the league in points and goals among defenders. For Shenzhen to progress, our girls will need to find a way to curtail her threat from the point and, in particular, cut out the penalties that help her to thrive as she quarterbacks the PP.
The schedule
The first round of the WHL playoffs is a best-of-three series. The action starts on home ice in Mytishchi on Friday, March 3. Then we head north to Petersburg for game two on March 6 and, if needed, a game three decider the following day.